ASP.NET(vb.net) & DetailsView Control
The DetailsView is displays the values of a single record from a data source in a table, where each data row represents a field of the record. The DetailsView control allows you to edit, delete, and insert records. This example code can to Applied .NET  Technology for ASP.NET 2.0 or later.

DetailsView Icon Control.
This a sample create DetailsView and display the value from AccessDataSource.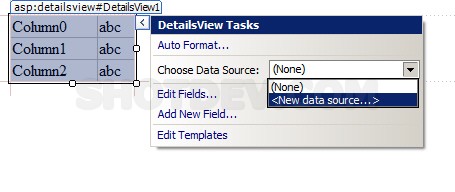 Drag control DetailsView to ASP.NET Web Form and Click DetailsView Tasks -> Choose Data Source -> <New data source…>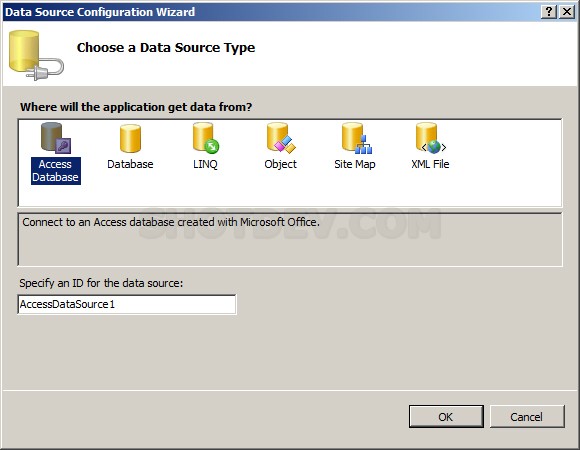 Choose a Data Source Type : Select Access Database and Specify an ID for the data source.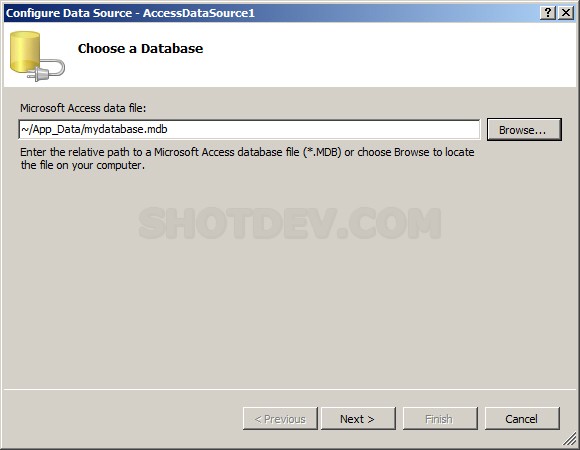 Choose a Database Path of Microsoft Access data file: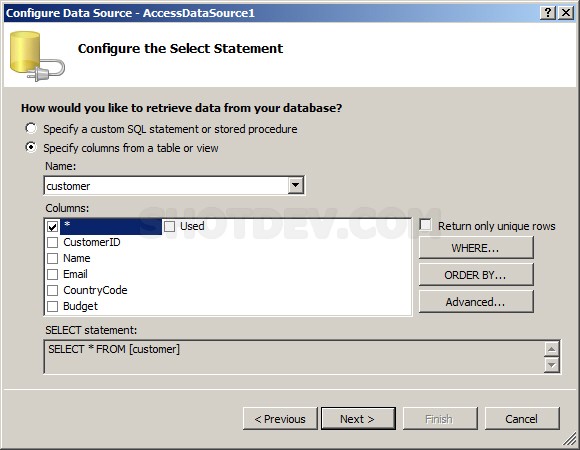 Configure the Select Statement.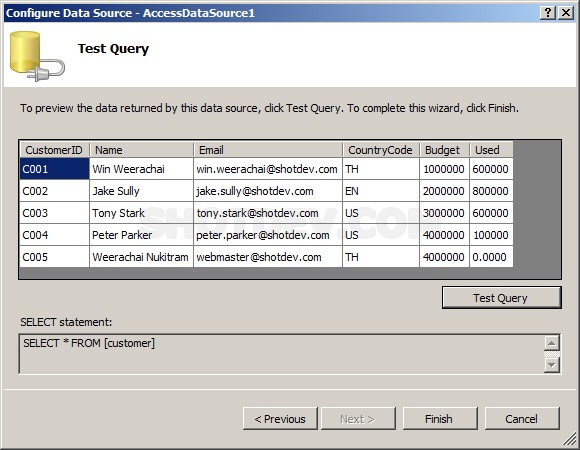 Test Query and Click Finish
Screenshot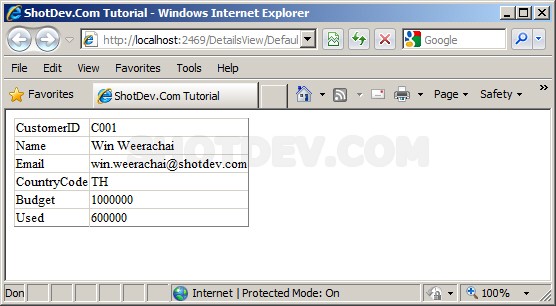 Others related articles

ASP.NET(vb.net) & DetailsView - DataBind & DataSource


ASP.NET(vb.net) & DetailsView - AlternatingRowStyle


ASP.NET(vb.net) & DetailsView - TemplateField


ASP.NET(vb.net) & DetailsView - DataBound


ASP.NET(vb.net) & DetailsView - AllowPaging/Pagination


ASP.NET(vb.net) & DetailsView - Edit/Update


ASP.NET(vb.net) & DetailsView - Add/Insert


ASP.NET(vb.net) & DetailsView - GridView Control


ASP.NET(vb.net) & DetailsView - Visual Studio 2005,2008,2010 (Fx 2.0,3.5,4.0)


ASP.NET(vb.net) & DetailsView - GridView Control - Visual Studio 2005,2008,2010 (Fx 2.0,3.5,4.0)


ASP.NET(vb.net) & DetailsView - Microsoft Access (.mdb) - System.Data.OleDb


ASP.NET(vb.net) & DetailsView - SQL Server 2000,2005,2008 - System.Data.SqlClient


ASP.NET(vb.net) & DetailsView - MySQL Database - MySql.Data.MySqlClient


ASP.NET(vb.net) & DetailsView - Oracle Database - System.Data.OracleClient